ABOUT
TERRY has been a distance runner his entire life. Doing photo-finish timing for track and field events got him interested in chip-timing services for road races. When injuries slowed down his ability to participate in races, the time was right to start the business. His degree in Electrical Engineering from the University of Nebraska helps to solve all the technical challenges that come up during track meets and races!
LORETTA has been married to Terry since 1988.  Running events have been a big part of life!  Attending, volunteering and now timing at events has become a passion.  Loretta has been a computer systems professional since January 1986 and is a natural to help with Day-of Registration and the Results kiosk.   She supports the business in multiple ways and is enthusiastic about helping organizations earn funds through races. Loretta is currently employed with Cigna  Health  Care.
EMMA is the daughter of Terry and Loretta and was a distance runner in Junior High and High School.  She joined the South Kitsap Jaguars Track and Field Club at age 10 and participated until her high school graduation.  Emma is very detail oriented and is excellent help with Day-of Registrations, the results kiosk or stationed at a midway check point on the course. Emma is currently employed as an office assistant  at Olympic College in Bremerton Washington but finds time to help with almost all events.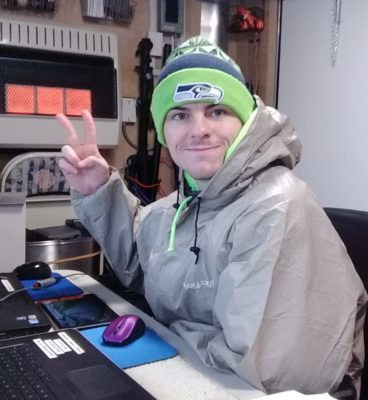 AUSTIN is the son of Terry and Loretta and was also a distance runner in Junior High, High School and Junior College. He also was a member of the South Kitsap Jaguars Track and Field Club and participated until high school graduation. He has earned his 2 year degree from Olympic College and is his father's right-hand man during a race. Austin handles all back up timing computers during a race and is instrumental in set up and tear down activities. His diagnosis of autism helps him spot and correct discrepancies for race data accuracy.